The LINK 2022 Journal: a collection on practice-led research
Palavras-chave:
Design, LINK, Sul Global, GEMInIS, Practice-led Research
Resumo
In recent years there has been a growing interest in the relationship between research and Design practice. Since the validation of practice-oriented research in universities in the 90s, an increasing number of Design students can submit a creative work along with a written exegesis for assessment purposes. The creative practice encompasses making an artefact with a technique or process according to the academic protocols of rigour that is common to areas of Communication Design and familiar to other fields of knowledge such as nursing, business and science. For the practitioner, it involve­s the conception of ideas and the search for new methods conceived through art and design outcomes, performances, or any other form of an artefact combined with exegesis writing. The consolidation of academic programmes that incorporate practice in research is growing, and they operate in the dimensions where tacit practice and critical thinking are developed simultaneously. The emergency of this form of research focuses on the subtle relationships between creative methods that arise from reflection and action on both the design studio practices and the practitioner's written accounts. The Dossier LINK Journal: Practice-led research in Design aims to extend the understanding of this form of knowing in action and assesses the production of epistemologies that impact the discipline and the broader area of artistic research. It builds upon the editors' selection of the best presentations from the conference LINK 2021 Practice-led research in Art, Communication and Design, where authors were invited to expand their submissions in the form of an academic article. These manuscripts advance historical, contextual and philosophical approaches to demonstrate the generation of new knowledge that can only be obtained through practice. They provide a snapshot of the state-of-the-art practice-led research in the academic domain of the PhD's degree. This collection is a result of an international partnership between the LINK Practice-led Research Group from the Auckland University of Technology - AUT, in Aotearoa, New Zealand, the Journal GEMInIS from the Federal University of São Carlos – UFSCar and Anhembi Morumbi University. For this volume, LINK Journal selected ten articles that offer an updated panorama on how practice-led research has been incorporated into Academia to challenge the assumptions about new ways to investigate and communicate new knowledge through artistic practice. The bilingual edition reinforces LINK's commitment to producing and distributing knowledge about practice-led research worldwide via open-access databases, entirely free of coasts for authors.  This dossier has as thematic co-editors Dr Marcos Mortensen Steagall (AUT) and Professor João Massarolo (UFSCar), Professor Sergio Nesteriuk Gallo (Anhembi Morumbi University) and Fiona Grieve (AUT).  We hope you enjoy the reading.
Downloads
Não há dados estatísticos.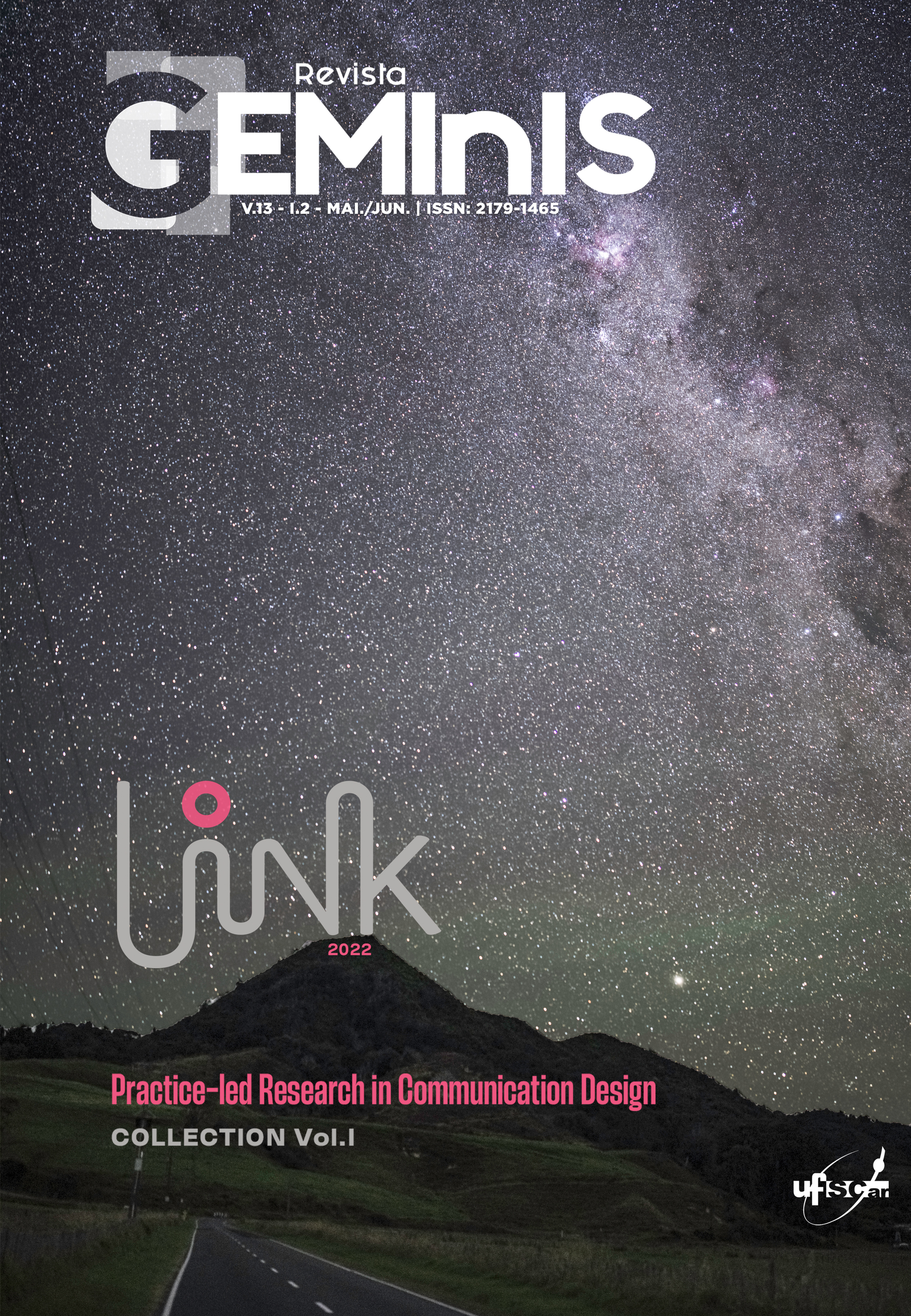 Downloads
Como Citar
MORTENSEN STEAGALL, M.; MASSAROLO, J.; NESTERIUK GALLO, S.; GRIEVE, F. The LINK 2022 Journal: a collection on practice-led research. Revista GEMInIS, [S. l.], v. 13, n. 2, p. 3–4, 2022. DOI: 10.53450/2179-1465.RG.2022v13i2p3-4. Disponível em: https://www.revistageminis.ufscar.br/index.php/geminis/article/view/743. Acesso em: 5 dez. 2023.
Seção
LINK2022 Coletânea: A Pesquisa Practice-led em Comunicação e Design
Licença
Copyright (c) 2022 Marcos Mortensen Steagall, João Massarolo, Sergio Nesteriuk Gallo, Fiona Grieve
Este trabalho está licenciado sob uma licença
Creative Commons Attribution-ShareAlike 4.0 International License
.
Autores que publicam nesta revista concordam com os seguintes termos:
a. Autores mantém os direitos autorais e concedem à revista o direito de primeira publicação, com o trabalho simultaneamente licenciado sob a Licença Creative Commons Attribution que permite o compartilhamento do trabalho com reconhecimento da autoria e publicação inicial nesta revista.
b. Autores têm autorização para assumir contratos adicionais separadamente, para distribuição não-exclusiva da versão do trabalho publicada nesta revista (ex.: publicar em repositório institucional ou como capítulo de livro), com reconhecimento de autoria e publicação inicial nesta revista.