Threaded magazine: Adopting a Culturally Connected Approach
Palavras-chave:
Cultural, Publication, Collaboration, Mātauranga Māori, Threaded magazine
Resumo
It has been over ten years since the Practice Report, The site of Publication in Contemporary Practice (Grieve & Redmond, 2009) introduced the term Publication Platform to describe a series of distinctive editorial modes and publishing spaces. Central to this report was the inclusion of Threaded magazine and the role of collaboration to lead content and in doing so affect practice as a critical editorial and design strategy. This article presents the strategies on how Threaded adopted a holistic and culturally connected approach. The structure of the article examines how the publication encapsulates the three principles of Te Tiriti o Waitangi: Participation, Protection and Partnership, as a guiding underlying foundation. This editorial model instils the uniqueness of cultural connections within because it draws from who Threaded are as a collective, determined by the people we associate and collaborate with.  The Project 16/2 will be discussed, presenting a reflection on the process of self-discovery, employing the tradition of storytelling to convey the te ihi (essence) of who Threaded is. Edition 20 and 21 advance the learnings from 16/2 and this article examines the collaboration with cultural advisors, Kaumātua and Kuia to ensure the kaupapa of these issues adhere to tikanga Māori and Mātauranga Māori kawa (protocols).  To ensure what Threaded's editors understand, and share is authentic and appropriate, advice and guidance is seek from our Kaumatua and Kuia (elders) walking within the realm of tradition as they are the carriers of the knowledge carefully passed down from our ancestors.
Downloads
Não há dados estatísticos.
Referências
Delamere, E., Yonge, J., & Whaiapu, C. (2021). Te Taumata Innovation in Toi-a-Iwi innovation in Arts and Culture in Aotearoa. https://www.tetaumatatoiaiwi.org.nz/sector-innovation/the-future-emerging-innovation-in-arts-and-culture-in-aotearoa/
Dewey, J. (1986). Experience and education. The educational forum (Vol. 50, No. 3, pp. 241-252). Taylor & Francis Group.
Grieve, F. and Clarke, K. (2021). Threaded magazine: Adopting a culturally connected approach. In M Mortensen Steagall, S Nesteriuk Gallo (Eds.), Proceedings of LINK 2021 3rd International Conference on Practice-Oriented Research in Art & Design (pp. 143-144). DOI 10.24135/link2021.v2i1.62
Gibbons, A. (2022). Threaded Special Edition #21, the Te Pō and Te Ao Mārama issue. Threaded Media Limited Publishers, Auckland. (p.4) ISSN 1176-5941
Grieve, F. and Clarke, K. (2013). 16/2. 8 Papers. 8 Sections. 8 Designers - Volume 2. (pp. 109-124. Fedrigoni S.p.A 37135 Verona - Italia. COD.50210002-104/13
Grieve, F. & Redmond, M. (2009). Practice Report, The Site of Publication in Contemporary Practice. Scope Journal, Art & Design 4, ISSN 1177-5661.
Grishakova, M., & Ryan, M. L. (2010). Intermediality and storytelling (p. 4). New York: de Gruyter.
Lilley, S. (2018). Interdisciplinarity and Indigenous studies: A Māori perspective. Journal of the Australian Library and Information Association, 67(3), 246-255.
Mead, H. M. (2016). Tikanga Māori: Living by Māori values (2nd ed.). Wellington: Huia Publishers.
Polanyi, M. (1958). Personal Knowledge: Towards a Post-Critical Philosophy. Chicago: University of Chicago Press. ISBN 0-226-67288-3
Sheehan, M. (2022) Threaded Special Edition #21, the Te Pō and Te Ao Mārama issue. Threaded Media Limited Publishers, Auckland. (p. 5). ISSN 11765941
Smith, L., Maxwell, T., Puke, H., & Temara, P. (2016). Indigenous Knowledge, Methodology and Mayhem: What is the role of Methodology in Producing Indigenous Insights? A Discussion from Mātauranga Māori. Knowledge Cultures 4. Addleton Academic Publishers. ISSN 2327-5731.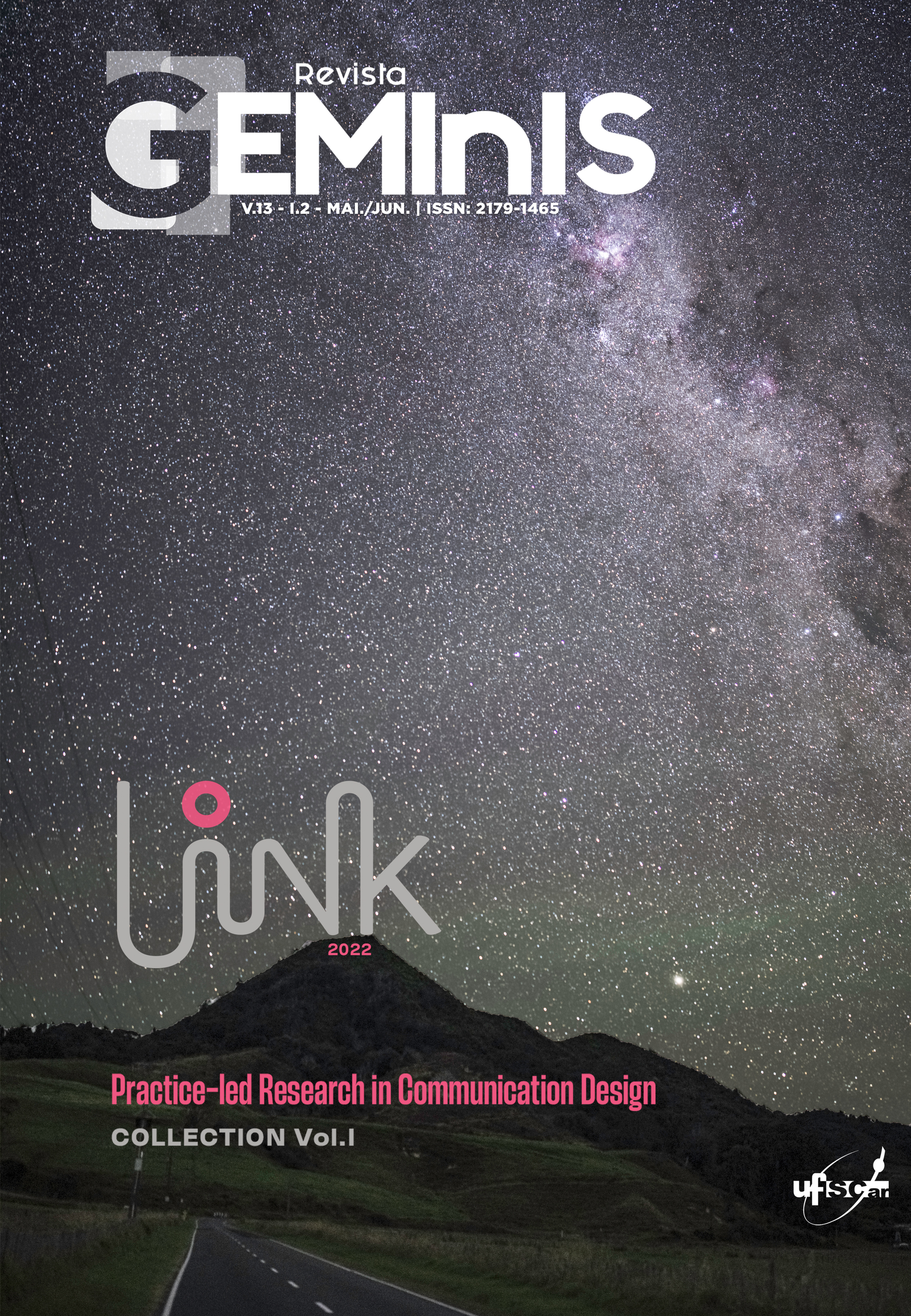 Downloads
Como Citar
GRIEVE, F.; CLARKE, K. . Threaded magazine: Adopting a Culturally Connected Approach. Revista GEMInIS, [S. l.], v. 13, n. 2, p. 105–119, 2022. DOI: 10.53450/2179-1465.RG.2022v13i2p105-119. Disponível em: https://www.revistageminis.ufscar.br/index.php/geminis/article/view/739. Acesso em: 4 dez. 2023.
Seção
LINK2022 Coletânea: A Pesquisa Practice-led em Comunicação e Design
Licença
Copyright (c) 2022 Fiona, Kyra Clarke
Este trabalho está licenciado sob uma licença
Creative Commons Attribution-ShareAlike 4.0 International License
.
Autores que publicam nesta revista concordam com os seguintes termos:
a. Autores mantém os direitos autorais e concedem à revista o direito de primeira publicação, com o trabalho simultaneamente licenciado sob a Licença Creative Commons Attribution que permite o compartilhamento do trabalho com reconhecimento da autoria e publicação inicial nesta revista.
b. Autores têm autorização para assumir contratos adicionais separadamente, para distribuição não-exclusiva da versão do trabalho publicada nesta revista (ex.: publicar em repositório institucional ou como capítulo de livro), com reconhecimento de autoria e publicação inicial nesta revista.