I am a Creative Loop: Towards Integrative Studios in Design and Creative Technologies
Palavras-chave:
Design education, Research supervision, Consciousness, Dialogic learning, Visual thinking
Resumo
Feedback loops take place when the output of a system is fed back into its input, and the emergent results of this connection can be surprising and interesting as seen in video feedback art. I build here on the idea of "strange loops" developed from mathematics, neuroscience and philosophy to think about consciousness. Strange loops can be observed between the brain and mind, between the individual and society, and between thinking and doing in design. As one looks for their essence, we cross between levels of abstraction to find ourselves back where we started. I use this metaphor to define creative loops and apply them to critically examine how theory and practice co-exist in design education and research. The paper closes with two strategies to integrate theory and practice in design: by combination and by chunking.
Downloads
Não há dados estatísticos.
Referências
Ames, M. G. (2018). Hackers, computers, and cooperation: A critical history of logo and constructionist learning. Proceedings of the ACM on Human-Computer Interaction, 2(CSCW), 1-19.

Forehand, M. (2010). Bloom's taxonomy. Emerging perspectives on learning, teaching, and technology, 41(4), 47-56.

Freire, P. (2000). Pedagogy of the Oppressed. Continuum.

Ghassan, A. (2019). Designerly Ways of Speaking: Investigating How the Design Tribe of Researchers Speak on Design Thinking (Publication Number 27992023) [Ph.D., University of Northumbria at Newcastle (United Kingdom)]. ProQuest Dissertations & Theses Global. Ann Arbor.

Hofstadter, D. R. (2007). I Am a Strange Loop. Basic Books. https://books.google.co.nz/books?id=ukI4DgAAQBAJ

Jimenez, A. (2020). The Silicon Doctrine. TripleC: Communication, Capitalism & Critique. Open Access Journal for a Global Sustainable Information Society, 18(1), 322-336.

Manzini, E., & Coad, R. (2015). Design, When Everybody Designs : An Introduction to Design for Social Innovation. MIT Press.

Martin Juez, F. (2002). Contribuciones para una antropología del diseño. GEDISA.

Roberts, P. (1982). What is design? Journal of Art & Design Education, 1(2), 269-278.

Schön, D. A. (2016). The reflective practitioner : how professionals think in action. Routledge.

Shulman, L. S. (2005). Signature pedagogies in the professions. Daedalus, 134(3), 52-59.

Sosa, R. (2021, 05/28). Designerly research and researcherly design skills, mindsets, and methods for revolutionary practices. DAT Journal, 6(2), 386-402. https://doi.org/10.29147/dat.v6i2.408

Yee, J. (2017). The researcherly designer/the designerly researcher. In L. Vaughan (Ed.), Practice-based Design Research (pp. 155). Bloomsbury Academic.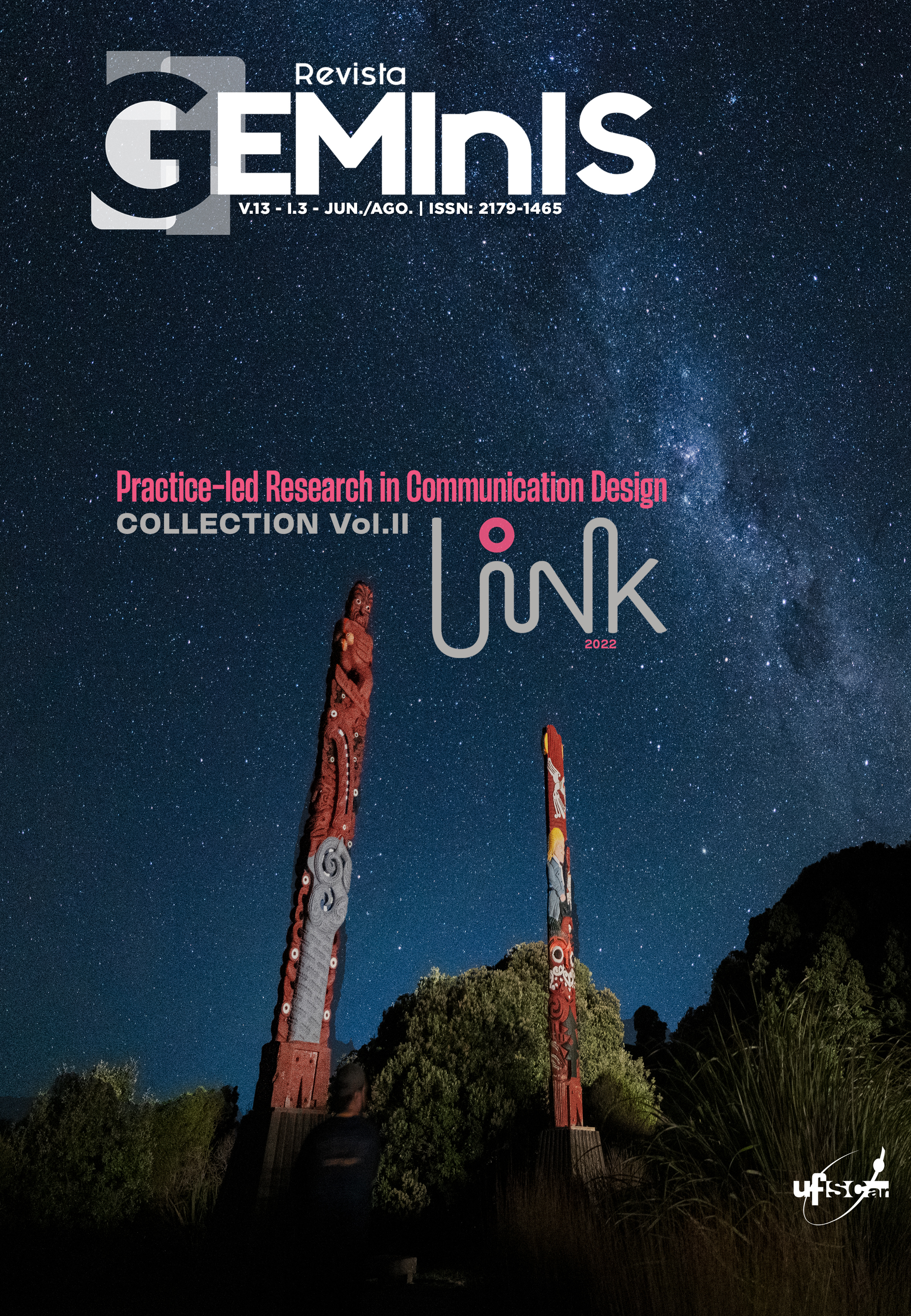 Downloads
Como Citar
SOSA, R. I am a Creative Loop: Towards Integrative Studios in Design and Creative Technologies. Revista GEMInIS, [S. l.], v. 13, n. 3, p. 71–81, 2022. DOI: 10.53450/2179-1465.RG.2022v13i3p71-81. Disponível em: https://www.revistageminis.ufscar.br/index.php/geminis/article/view/707. Acesso em: 28 set. 2023.
Seção
LINK2022 Coletânea: A Pesquisa Practice-led em Comunicação e Design
Licença
Copyright (c) 2022 Ricardo Sosa
Este trabalho está licenciado sob uma licença
Creative Commons Attribution-ShareAlike 4.0 International License
.
Autores que publicam nesta revista concordam com os seguintes termos:
a. Autores mantém os direitos autorais e concedem à revista o direito de primeira publicação, com o trabalho simultaneamente licenciado sob a Licença Creative Commons Attribution que permite o compartilhamento do trabalho com reconhecimento da autoria e publicação inicial nesta revista.
b. Autores têm autorização para assumir contratos adicionais separadamente, para distribuição não-exclusiva da versão do trabalho publicada nesta revista (ex.: publicar em repositório institucional ou como capítulo de livro), com reconhecimento de autoria e publicação inicial nesta revista.