You Can't Get There From Here: Discovering Where to Begin a Practice-led Inquiry – Notes and Reflections from Thailand
Palavras-chave:
Good Beginnings, Practice-as-Inquiry, Knowledge Production, Materiality, Language
Resumo
This article focuses critical attention on an often-overlooked aspect of practice-led research in art and design – how and where practice-led research projects begin. In particular, the article describes and discusses an MFA class in Visual Communication at a Thai University that provides a structured approach to producing what the author describes as good beginnings. Rather than resulting from the decision to continue existing approaches to practice or selecting a new topic for inquiry, the author argues that good beginnings emerge from an intensive period of pre-inquiry that, at one and the same time, invites students to engage with and unpack the motivations and concerns that underly their practices, explore these through practical experimentation, locate them within relevant theoretical contexts, and by so doing, begin the process of reimaging their practice-in-itself as a form of practice-as-inquiry. Working in a situation where artistic inquiry is dominated by conventional understandings of research and the hegemony of linguistic forms of the presentation of knowledge, the author pays particular attention to addressing the complex entanglements of words and works in the development of practice-led projects in a university setting.
Downloads
Não há dados estatísticos.
Referências
Carter, P. (2004). Material Thinking. New Academia Publishing. Melbourne University Press.
Elkins, J. (2014). Art critiques: A guide. New Academia Publishing.
Gangakate, C. & xxxxx. (2011). Painting as Intellectual Inquiry: A Contribution to the Development of Practice-based Research in Thailand. International Fine Arts Journal, 15(3). Retrieved April 28, 2022, from tinyurl.com/2p8fx3wu
McGuirk, T. (2008). Knowing by Hand: Embodied Knowledge in Higher Education in the Disciplines of Art and Design. Proceedings of the 11th Conference of the International Society for the Study of European Ideas (ISSEI), Finland, University of Helsinki. Retrieved April 4, 2022, from https://blogs.helsinki.fi/issei2008
xxxxx.. (2012). What is an Experiment? Proceedings of the 6th South East Asian Technical University Consortium (SEATUC) Symposium, Bangkok, Thailand, SEATUC.
Rancière, J. (2009). The Emancipated Spectator. Verso.
Stafford, B. M. (1996). Good Looking: Essays on the Virtue of Images. MIT Press.
Sullivan, G. (2005). Art Practice as Research: Inquiry in the Visual Arts. Sage.
Wang, D, and Linda N. Groat. (2013). Architectural Research Methods. John Wiley & Sons.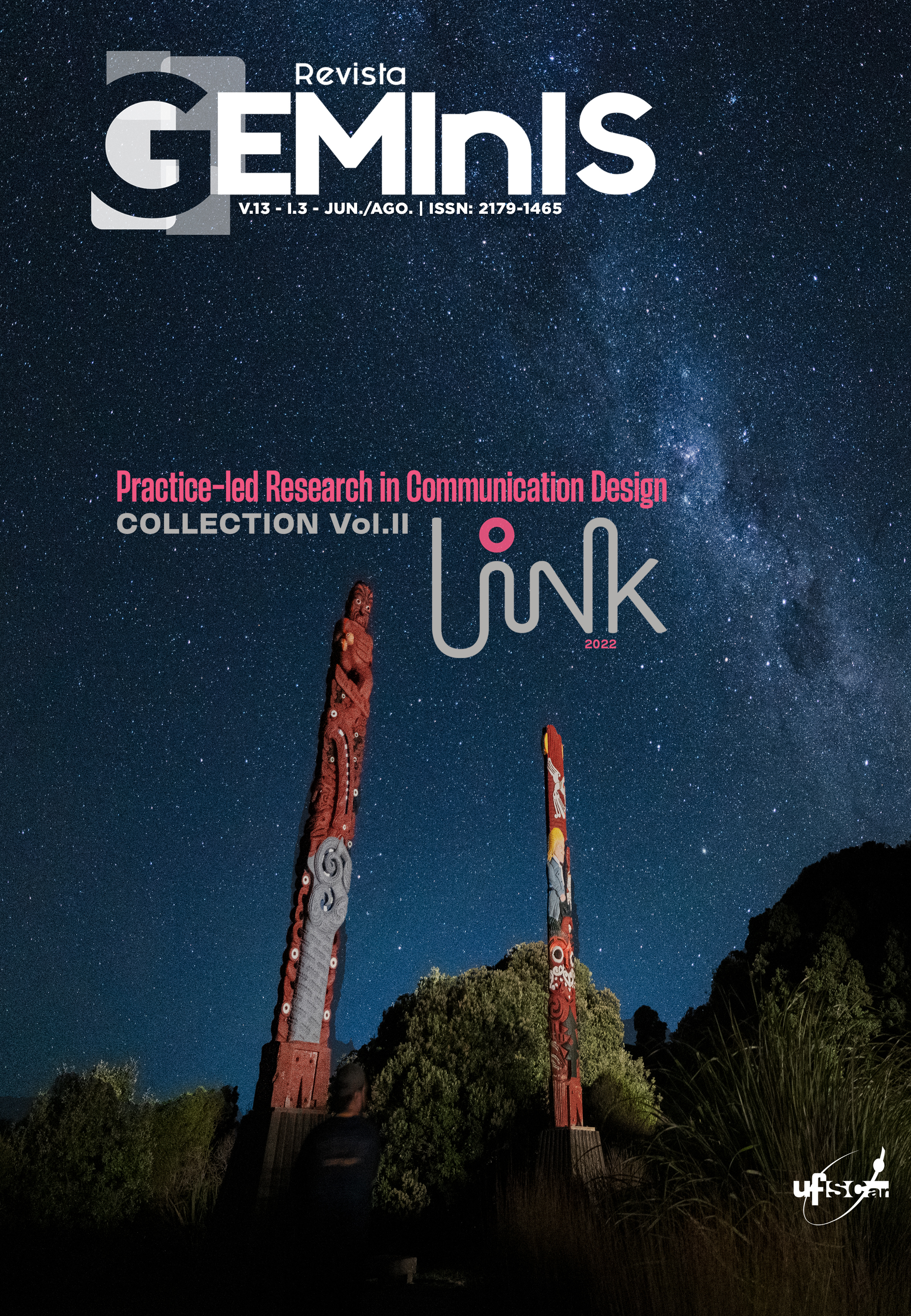 Downloads
Como Citar
POWER, N. You Can't Get There From Here: Discovering Where to Begin a Practice-led Inquiry – Notes and Reflections from Thailand. Revista GEMInIS, [S. l.], v. 13, n. 3, p. 58–70, 2022. DOI: 10.53450/2179-1465.RG.2022v13i2p58-70. Disponível em: https://www.revistageminis.ufscar.br/index.php/geminis/article/view/724. Acesso em: 4 dez. 2023.
Seção
LINK2022 Coletânea: A Pesquisa Practice-led em Comunicação e Design
Licença
Copyright (c) 2022 Nigel Power
Este trabalho está licenciado sob uma licença
Creative Commons Attribution-ShareAlike 4.0 International License
.
Autores que publicam nesta revista concordam com os seguintes termos:
a. Autores mantém os direitos autorais e concedem à revista o direito de primeira publicação, com o trabalho simultaneamente licenciado sob a Licença Creative Commons Attribution que permite o compartilhamento do trabalho com reconhecimento da autoria e publicação inicial nesta revista.
b. Autores têm autorização para assumir contratos adicionais separadamente, para distribuição não-exclusiva da versão do trabalho publicada nesta revista (ex.: publicar em repositório institucional ou como capítulo de livro), com reconhecimento de autoria e publicação inicial nesta revista.