The Colophon: Where moving parts come together
Palavras-chave:
Citation, Colophon, List/Listing, Relationality, Working-with
Resumo
This article considers the colophon as a conceptual structure for thinking through lists and listing within creative practice(s). A colophon, typically found at the opening/end pages of a book, documents information about the publication production, its design characteristics and the context for which it was assembled. As artists practising in the inter-related fields of social, temporal and installation practices, we enjoy thinking about how the colophon might conceptually subvert and activate the working conditions within a project. This leads us to ask, how is this conception of the colophon useful in thinking about the other types of lists and listings that make their way into our collective practices? Contents, Captions, Legends, Work Lists, Indexes, Compilations. These particular modes of listing communicate relevant and intrinsic contexts and, in that way, become part of the conceptual life of artworks/projects. The Colophon: Where moving parts come together focuses on how the colophon can contribute meaning to social, object, material and temporal forms, thereby expanding the nature of engagement with artworks and events regarding the with who or the why here. Three perspectives will be discussed, exploring how the tropes of the colophon manifest as a potential system and tactical device in contemporary art.
Downloads
Não há dados estatísticos.
Referências
Avalanche Magazine Index. (1970, 1976). http://avalancheindex.org/
Berlant, L. & Stewart, K. (2019). The hundreds. USA. Duke University Press.
Condorelli, C., Wade, G., & Langdon, J. (2009). Support Structures. Sternberg Press.
Huybrechts, L. (Ed.). (2014). Participation Is Risky | Approaches to Joint Creative Processes. Valiz. www.valiz.nl
Matta-Clark, G., Girouard, T., & Goodden, C. (1971). FOOD, artist-run restaurant [Artist-run restaurant, 127 Prince Street, Soho, New York]. http://www.publiccollectors.org/CompletePublications.htm
Matta-Clark, G., Girouard, T., & Goodden, C. (1972). Food's Family Fiscal Facts [Conceptual artwork].
Meyle, L. (n.d.). Lucy Meyle [Artist website]. Retrieved December 13, 2021, from https://www.lucymeyle.com/
O'Hara, E. (2017). Skylight Archive [Temporal art project]. https://www.instagram.com/skylightarchive/
Perec, G. (2008). Species of Spaces and Other Pieces (J. Sturrock, Ed.; New Ed edition). London. Penguin Classics.
Redmond, M., & Stockman, H. (2019). Budding vase subscription [Socially-engaged exchange-event]. https://www.instagram.com/buddingvasesubscription/
waxman, lori. (2008). The Banquet Years: FOOD, A SoHo Restaurant. Gastronomica, 8(4), 24–33. https://doi.org/10.1525/gfc.2008.8.4.24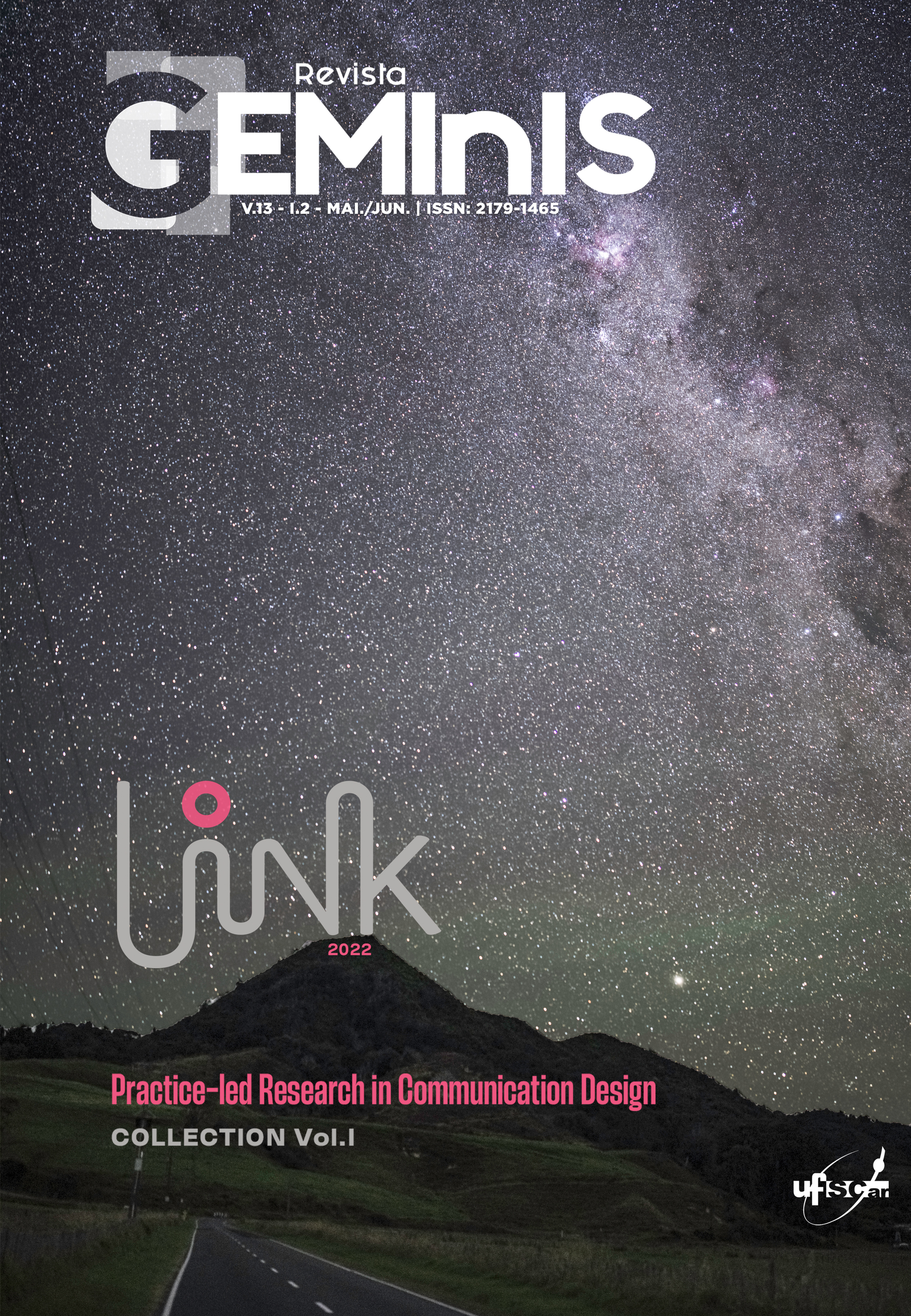 Downloads
Como Citar
MEYLE, L.; OHARA, E.; REDMOND, M. The Colophon: Where moving parts come together. Revista GEMInIS, [S. l.], v. 13, n. 2, p. 59–72, 2022. DOI: 10.53450/2179-1465.RG.2022v13i2p59-72. Disponível em: https://www.revistageminis.ufscar.br/index.php/geminis/article/view/727. Acesso em: 30 nov. 2023.
Seção
LINK2022 Coletânea: A Pesquisa Practice-led em Comunicação e Design
Licença
Copyright (c) 2022 Lucy Meyle, Emily OHara, Monique Redmond
Este trabalho está licenciado sob uma licença
Creative Commons Attribution-ShareAlike 4.0 International License
.
Autores que publicam nesta revista concordam com os seguintes termos:
a. Autores mantém os direitos autorais e concedem à revista o direito de primeira publicação, com o trabalho simultaneamente licenciado sob a Licença Creative Commons Attribution que permite o compartilhamento do trabalho com reconhecimento da autoria e publicação inicial nesta revista.
b. Autores têm autorização para assumir contratos adicionais separadamente, para distribuição não-exclusiva da versão do trabalho publicada nesta revista (ex.: publicar em repositório institucional ou como capítulo de livro), com reconhecimento de autoria e publicação inicial nesta revista.