The experience of Story Worlds across Media - A conversation with Aaron Smith
Palavras-chave:
entrevista, transmídia, transmedia, Aaron Smith, conversation
Resumo
Aaron Smith has been known in the academic environment because of this texts about structures within transmedia narratives. His most famous work is "Transmedia Storytelling in Television 2.0"; a thesis for the Middlebury College presented in Spring, 2009, in which he discuss canonicity and world building processes in transmedia storytelling. One of the examples analyzed is the TV series Lost (ABC, 2004-2010) and its narrative extensions in other platforms, like mobile phones, books, games and ARGs (Alternate Reality Games). At this time, Smith is working at the advertising agency; having clients like ABC Entertainment and Disney XD. In this interview for GEMInIS journal, among other things, he talked about his theoretical influences, differences between concepts of transmedia narrative and transmediation, and the definition of Narrativized Geography of Play.The opinions given in this interview do not necessarily reflect the views of the employers in which Aaron works or has worked.
Downloads
Não há dados estatísticos.
Referências
ABRAMS, J.J. "J.J. Abrams' mystery box." Blog.ted.com, January 10th, 2008. http://www.ted.com/talks/j_j_abrams_mystery_box.html.
David Bolter and Richard Grusin introduced this term in Remediation: Understanding New Media. Cambridge, MA: MIT Press, 2000.
JENKINS, Henry. Convergence Culture: Where Old and New Media Collide. New York: New York University Press, 2008
JENKINS, Henry. "Transmedia 202: Further Reflections," Confessions of an Aca/Fan, August 1, 2011, http://henryjenkins.org/2011/08/defining_transmedia_further_re.html.
ROSE, Frank. The Art of Immersion. New York: W. W. Norton & Company, 2011.
DENA, Christy. Transmedia Practice: Theorising the Practice of Expressing a Fictional World across Distinct Media and Environments. University of Sydney, Australia, 2009.
Lauwaert, Maaike. The Place of Play: Toys and Digital Cultures. Amsterdam: Amsterdam University Press, 2009.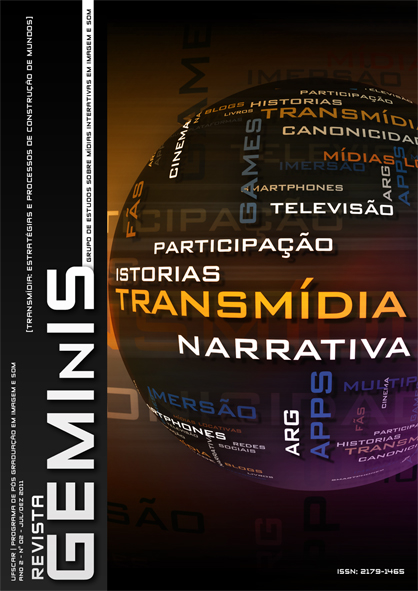 Downloads
Como Citar
TRENTO, F. The experience of Story Worlds across Media - A conversation with Aaron Smith. Revista GEMInIS, [S. l.], v. 2, n. 2, p. 276–284, 2011. Disponível em: https://www.revistageminis.ufscar.br/index.php/geminis/article/view/94. Acesso em: 4 jul. 2022.
Licença
Autores que publicam nesta revista concordam com os seguintes termos:
a. Autores mantém os direitos autorais e concedem à revista o direito de primeira publicação, com o trabalho simultaneamente licenciado sob a Licença Creative Commons Attribution que permite o compartilhamento do trabalho com reconhecimento da autoria e publicação inicial nesta revista.
b. Autores têm autorização para assumir contratos adicionais separadamente, para distribuição não-exclusiva da versão do trabalho publicada nesta revista (ex.: publicar em repositório institucional ou como capítulo de livro), com reconhecimento de autoria e publicação inicial nesta revista.