Thinking, Photographing: A Place-based Approach in Practice-led Research
Palavras-chave:
Methodology, Photography, Place-based, Place-making, Practice-led
Resumo
The article introduces photography practice as a practice-led research methodology, highlighting photographic conventions and methods as key research approaches. To illustrate these ideas I will foreground examples of my photography practice and other practitioners'. My focus is on research that explores place-based topics in which photography plays the role of generating thinking and place-making.
The article positions photography as a complete practice-led research methodology within the academy, contextualising key historical practices and moments in order to propose an expanded model of place representation. I will trace the advancements of photography and its uses during the colonial period, the introduction to landscape and later the progression into tourism photography. As a counter approach to these frameworks, I propose a more nuanced iterative model of place representation capable of rendering multiple place imaginaries. This allows visual artists, practice-led researchers and ethnographers to expand existing research agendas and methodological approaches to place and place-making.
Downloads
Não há dados estatísticos.
Referências
Aquino, L. A. de. (2014). Picture ahead: A Kodak e a construção do turista-fotógrafo / Picture ahead: Kodak and the construction of a tourist-photographer [Doctoral dissertation, Universidade Estadual de Campinas]. http://repositorio.unicamp.br/jspui/handle/REPOSIP/285273
Bender, B. (1993). Landscape: Politics and perspectives. Berg.
Best, S. (2011). Landscape after land rights, after conceptual art: 'Photography and Place: [Australian Landscape Photography 1970s Until Now']. Eyeline, 75(75), 33–37.
Butt, D. (2017). Artistic Research in the Future Academy. Intellect.
Colberg, J. (2016). Understanding photobooks. Routledge. https://ebookcentral-proquest-com
Dench, S. (2011). Representing the Waikato: Photography and colonisation. Journal of New Zealand Literature, 29(2), 66–88.
Duxbury, L., Waite, D., & Grierson, E. M. (2008). Thinking through practice: Art as research in the academy. School of Art, RMIT University.
Edwards, E. (2011). Tracing photography. In J. Ruby & M. Banks (Eds.), Made to be seen: Perspectives on the history of visual anthropology (pp. 159–189). University of Chicago Press. http://site.ebrary.com/lib/alltitles/docDetail.action?docID=10519583
Fontcuberta, J. (2015). The Post-Photographic Condition | Anti-Utopias (S. Bors, Interviewer) [Interview]. https://anti-utopias.com/newswire/post-photographic-condition/
Glowczewski, B. (2012). From academic heritage to Aboriginal priorities: Anthropological responsibilities. Revista de Antropologia Da UFSCar, 4(2), 6–19. https://researchonline.jcu.edu.au/33208/1/33208%20Glowczewski%202011.pdf
Hall, S. (1990). Cultural Identity and Diaposra. In Identity: Community, culture, difference. (pp. 222–237). Lawrence and Wishart.
Hall, S. (1996). Questions of cultural identity. SAGE.
Hill, R. (2018). South of the Rising Sun / Whakatetonga o te Whitinga o te Rā [Photography Installation].
Hill, R. (2019a). Let Light Create Imaginary Spaces. Contemporary Ethnography Across the Disciplines Conference.
Hill, R. (2019b). Place imaginaries: Photography and place-making at Te Awa River Ride [Thesis, The University of Waikato]. https://researchcommons.waikato.ac.nz/handle/10289/12797
Hill, R. (2021a). 11 Let Light Create Imaginary Spaces: Photography and Place-Making (Rodrigo Hill). In Ethnographic Borders and Boundaries. Peter Lang. https://www.peterlang.com/view/9781789975512/html/ch23.xhtml
Hill, R. (2021b). Post-photography: Lens-based methodology and practice-led ways of critical thinking | Link Symposium Abstracts 2020. https://doi.org/10.24135/linksymposium.vi.9
Ingold, T. (2014). That's enough about ethnography! HAU: Journal of Ethnographic Theory, 4(1), 383–395. https://doi.org/10.14318/hau4.1.021
Kossoy, B. (2001). Fotografia & história (2a edição revista.). Ateliê Editorial.
Leavy, P. (2014). Method meets art: Arts-based research practice (2nd ed.). The Guilford Press. http://site.ebrary.com/lib/alltitles/docDetail.action?docID=11001927
Lyons, N. (1974). Notations in passing. MIT Press.
Lyons, N. (2012). Nathan Lyons: Selected essays, lectures, and interviews (J. S. McDonald, Ed.). University of Texas Press.
Marina Spunta, editor, & Jacopo Benci, editor. (2017). Luigi Ghirri and the photography of place: Interdisciplinary perspectives. Peter Lang AG.
Massey, D. B., Allen, J., & Sarre, P. (Eds.). (2007). Human geography today. Polity Press.
Moholy-Nagy, L. (1947). Vision in motion. P. Theobald. //catalog.hathitrust.org/Record/000365875
Park, G. (2006). Theatre country: Essays on landscape and whenua. Victoria University Press.
Pink, S. (2011). Amateur photographic practice, collective representation and the constitution of place. Visual Studies, 26(2), 92–101. https://doi.org/10.1080/1472586X.2011.571884
Schwartz, J. M., & Ryan, J. R. (Eds.). (2003). Picturing place: Photography and the geographical imagination. I.B. Tauris.
Shore, R. (2014). Post-photography: The artist with a camera. Laurence King Publishing.
Smith, H., & Dean, R. T. (2009). Practice-led research, research-led practice in the creative arts. University Press.
Smith, K. A. (2010). Structure of the visual book (4th ed.). K. Smith Books.
Spunta, M., & Benci, J. (2017). Luigi Ghirri and the Photography of Place: Interdisciplinary Perspectives (Vol. 27). Peter Lang Ltd, International Academic Publishers.
Townsend, P. (2016). Patricia Towsend: Between Inner and Outer Worlds. In Photographers and Research: The Role of Research in Contemporary Photographic Practice (pp. 204–217). Taylor & Francis.
Waterton, E. (2019). More Than Representational Landscapes. In P. Howard, I. Thompson, M. Atha, & E. Waterton (Eds.), The Routledge Companion to Landscape Studies (2nd ed., pp. 91–101). Routledge. https://doi.org/10.4324/9781315195063
Wells, L. (2011). Land matters: Landscape photography, culture and identity. I. B. Tauris.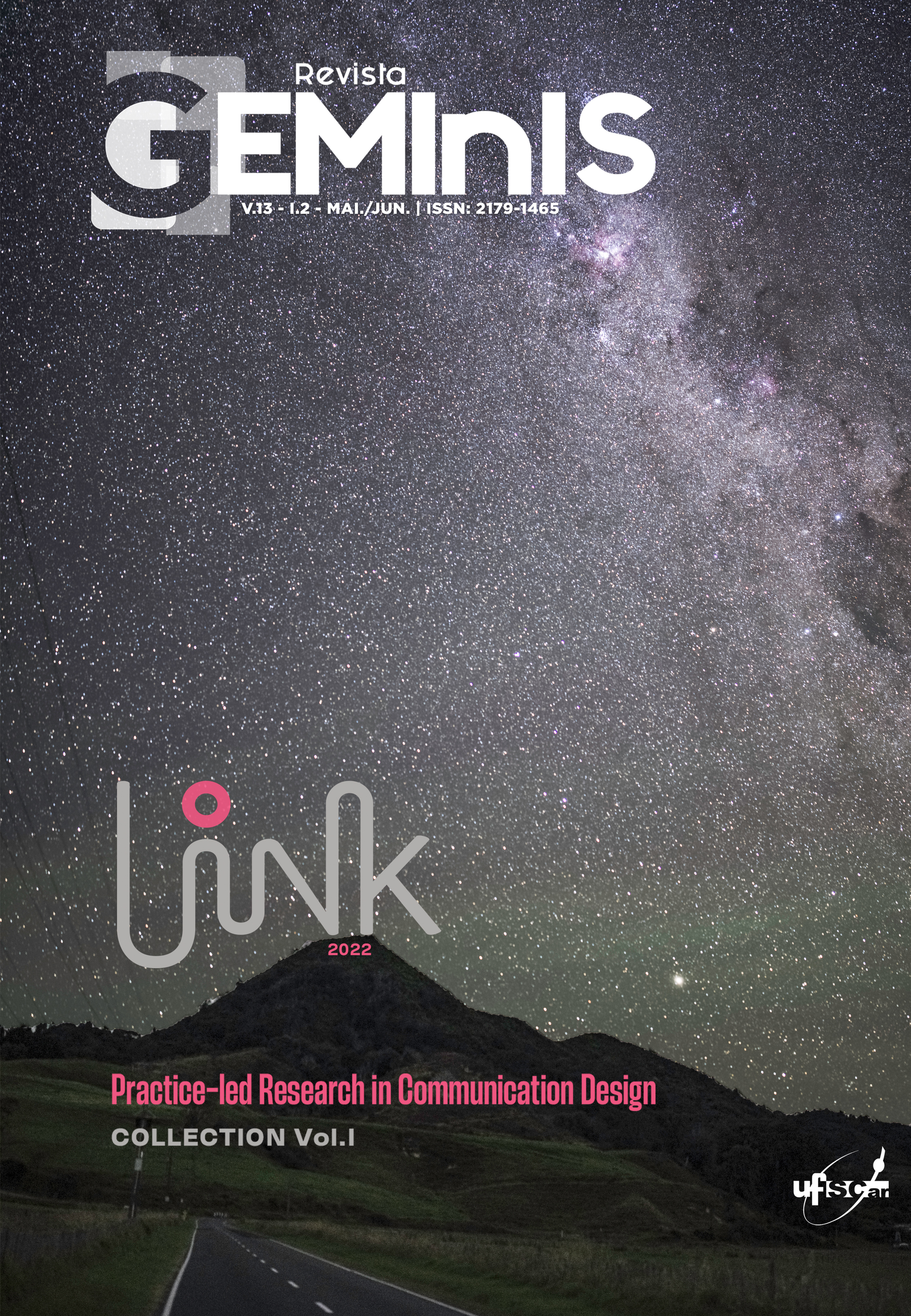 Downloads
Como Citar
HILL, R. Thinking, Photographing: A Place-based Approach in Practice-led Research. Revista GEMInIS, [S. l.], v. 13, n. 2, p. 46–58, 2022. DOI: 10.53450/2179-1465.RG.2022v13i2p46-58. Disponível em: https://www.revistageminis.ufscar.br/index.php/geminis/article/view/723. Acesso em: 6 dez. 2023.
Seção
LINK2022 Coletânea: A Pesquisa Practice-led em Comunicação e Design
Licença
Copyright (c) 2022 Rodrigo Hill
Este trabalho está licenciado sob uma licença
Creative Commons Attribution-ShareAlike 4.0 International License
.
Autores que publicam nesta revista concordam com os seguintes termos:
a. Autores mantém os direitos autorais e concedem à revista o direito de primeira publicação, com o trabalho simultaneamente licenciado sob a Licença Creative Commons Attribution que permite o compartilhamento do trabalho com reconhecimento da autoria e publicação inicial nesta revista.
b. Autores têm autorização para assumir contratos adicionais separadamente, para distribuição não-exclusiva da versão do trabalho publicada nesta revista (ex.: publicar em repositório institucional ou como capítulo de livro), com reconhecimento de autoria e publicação inicial nesta revista.